The Medioevo Italiano Project (MIP) cultural and historical Association, is constantly aiming to make and develop new means to study and research the Middle Ages on the web. [Contact form]

Storiadelmondo ISSN 1721-0216, scientific, technical and professional electronic journal dealing with world-wide history, is published periodically by Drengo. University scholars make up the editorial board in Rome, helped by an international team of free lance reporters, who collaborate via the Internet. A Steering Committee of international university researchers and professors has been formed. We encourage, in particular, contributions from international scholars. The journal aims at spreading the knowledge of history - in all its fields- to the public in a serious and authoritative way. Themed books and individual excerpts are also available in print.
Submission Information:
Submissions in electronic form (DOC; RTF; TXT) are strongly preferred. Scholars at all stages of their careers are equally welcome (required short bio-bibliography). Submit: a paper or contact editorial board.
IS - Internet e Storia (Internet and History). 7th Forum 15 January - 15 March 2009. The topics for the 7th telematic Forum are Internet, History and all subjects related to the application of multimedia technology to History and, in general to Human Studies. Each speaker presents an abstract through the specifically prepared mailing-list. Essays will be placed on the official site, which could be consulted only by signed members. Speakers participate on invitation or by self-candidature through the official site pages. Acts will be published in «Storiadelmondo». Papers will be published also in CD-ROM edition. The Forum is free; everyone can apply and participate to the debate, which will be moderated by scholars and professionals in this field. The debate will take place via private mailing-list. Italian will be the official language, but interventions in English, French, Spanish and German will be accepted. The Forum is run with the support of government organisations, university research centres, and multimedia associations.
Submission Information:
Submissions in electronic form (DOC; RTF; TXT) are strongly preferred. Scholars at all stages of their careers are equally welcome (required short bio-bibliography). Contact: IS Forum 2009.
SISAEM, the International Society for the Study of the Adriatic in the Middle Ages is based in Rome and is dedicated to the promotion and diffusion of historical culture, in general, Adriatic history from antiquity to modern times and, in particular, supporting research on the Adriatic during the Middle Ages and Renaissance (5th to 16th centuries) in the broader sense, enhancing their scientific, education and social value.
SISAEM's Promotional Committee, which has been active since October 2005, within the scope of the Medioevo Italiano Project, has supported numerous highly prominent cultural and social events aimed at disseminating the history and culture of the eastern Adriatic coast. Specifically, it sponsors activities to promote and enhance Julian-Dalmatian history.

Osservatorio di Storia multimediale. The Multimedia History Observatory, will publish on January 15th 2007, the 'Rapporto Italia Storica' (Italian History Report). Research projects, reports, data, statistics, surveys, biographies and bibliographies concerning the current status of historical publishing and research in Italy.

In order to encourage the growth and progress of the humanities online, MIP makes its experience and expertise available to those projects that require help or information through the Central Conference for history and the humanities online (Conferenza Centrale). The Central Conference is a permanent telematic forum dealing with the humanities. It is also a consultation centre for the development of any electronic initiative within broad subject areas including history, philosophy, literature, languages and the humanities.

The committee of the Central Conference award the certificate (CC Humanities Award) to online projects which have distinguished themselves highly for correctness, comprehensiveness and research.

The existence of such a large number of web sites dedicated to history in Italy, require us all to consider methods of evaluating the quality of these sites, their standards and the correctness of their content (Manifesto for Research in History on Internet).

Associated initiatives:

Master a distanza in Informatica per la Storia Medievale. Master's Degree in Information Technology for Medieval History (FAD).
Objectives: To acquire familiarity and skills in using IT instruments for study and research in the fields of history and the humanities, with particular emphasis on medieval Italian and European history.
8 basic modules plus 8 specialised modules in the following fields: A) teaching history B) historic and scientific journalism C) studying history.

Medioevo Italiano web site online from January 1999. The site has a mission to increase awareness of the medieval period via Internet and multimedia from a scientific, technical and professional point of view, in order to expand the community of people interested in the subject and act as a point of reference for specific online initiatives. It includes high-quality content and features which are oriented towards research and education. MIP recommend medioevo-italiano, medieval italian discussion group, devoted to history, arts and culture. For subscribe send blank message to: medioevo-italiano-subscribe@yahoogroups.com

Medioevo Italiano Project provides information for AGENSU, the Electronic Information Agency for History & Human Science. Its primary objective is to publish scientific and cultural information.

MIP recommend to try Onoria a medieval italian search engine.
---

Our Books
Quaderni del Medioevo Italiano Project:
The publisher's site. For overseas orders we suggest Casalini (international bookseller).

Internet e Storia (Internet and History) by Angelo Gambella and Roberta Fidanzia, Quaderni del Medioevo Italiano Project, Drengo, Roma, 2002. ISBN 88-88812-00-8.

Medioevo Italiano. Rassegna Storica online ed altri testi in edizione CD-ROM (1999-2003) ed. by Angelo Gambella, Quaderni del Medioevo Italiano Project, Drengo, Roma, 2003. ISBN 88-88812-04-0 (book and CD-ROM).
Archive of Medioevo Italiano website.

Internet e Medioevo. Testi e strumenti per la didattica e la ricerca, a cura di R. Fidanzia e A. Gambella, Drengo, Roma, 2004. ISBN 88-88812-06-7.
Papers on Internet and Middle Ages.

Archivio di Storiadelmondo CD-ROM 2003. Indice degli studi nn. 1-18 (2003), Quaderni del Medioevo Italiano Project, Drengo, Roma, 2004. ISBN 88-88812-05-9 (book and CD-ROM).
Year-book of Storiadelmondo. CD-ROM edition for scholars and the Italian National Libraries.

Informatica applicata agli Studi di Storia Medievale. Iniziative 2001-2004, Bollettini del Medioevo Italiano Project, Roma, 2004.
Free. Contact the Medioevo Italiano Project.

Archive (PDF Documents)

International Medieval Congress 2001 IMI - University of Leeds, England 9-12 July 2001
MIP present: THE WORLD WIDE WEB AND THE ´MEDIO AEVUM´: ITALY AND BEYOND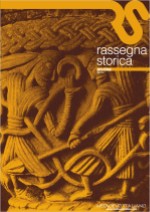 Publication in this form are (c) Rassegna Storica online of Medioevo Italiano (see the English section).

Orietta Da Rold
Middle Ages on the web in Italy, Britain and USA: a survey, a prospective
The WWW has become one of the most powerful tools for study and research in many areas, including the Middle Ages, and its influence continues to grow. There are numerous sites in this area, and this paper aims at presenting and comparing the quality of Internet publication in Italy, Britain and USA. It will be a survey, a prospective. It will focus on selected sites. In particular, I shall be looking at Medieval Manuscript Studies and related pages, hoping to open a discussion. During the last year the study of the Italian web has undergone a major development. Important universities' web sites have appeared, but often projects are based on self-supported and non-affiliated individuals. The Medioevo Italiano Project tried to respond to the lack of interest shown by scholars. By contrast, British and American web site have a long-established tradition of publishing images, data and secondary sources, for they consider the use of Internet publication an essential tool in teaching. The paper presents a detailed assessment of this situation, searching for answers to the question of how to improve and promote the Medieval studies on the web in Italy.

Roberta Fidanzia
Il Medioevo in rete: un confronto tra Spagna ed Italia
The middle ages on the web: a comparison between Spain and Italy. Checking the development of multimedial application on middle ages' studies is the first aim of this paper.

Angelo Gambella
Realtà e prospettive del medioevo in rete: l'esempio italiano
The aim of this paper is the analysis of the medieval Internet situation in Italy. The figure of the medieval historician is pointed out with a large vision of the future's perspectives.
---







The MIP community lives on Internet.
Address: Medioevo Italiano Project - Viale Oscar Sinigaglia, 48 - 00143 Roma ITALY
fax: +39 06 23319240
website: www.medioevoitaliano.it
e-mail:

AT medioevoitaliano.it